Gas grills offer a lot of conveniences that charcoal and pellet grills don't – For one, they're quicker to use. Instead of spending time heating charcoal, you only have to turn the knob. Gas grills are also easier and faster to clean up while providing more even heating compared to other grill types.
With all these advantages, gas grills quick popularity isn't surprising with many families buying or looking to buy one. Are you in the market for one too?
We don't blame you. You can easily prepare a meal for the entire family with one of these in your kitchen.
Top 6 Three Burner Gas Grills: Complete Review
To help you out, we review 6 of the best three-burner gas grills available in the market today. Sit back and relax while we take you through them.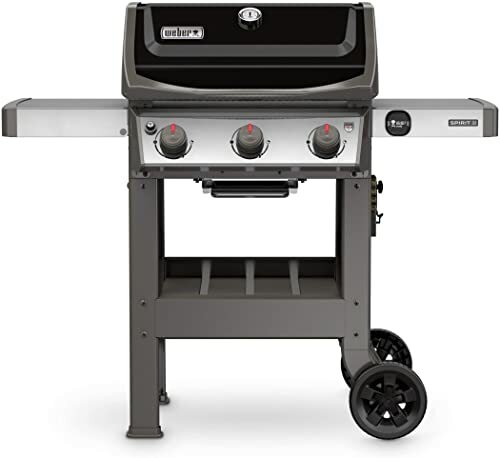 Weber is a reputed American brand for grills and smokers. Its spirit II E-310 burner attests to this solid reputation by providing the trifecta of grills: design, quality, and function. Arguably the best grill on the market today, it features smart, easy-to-use features and a high-performance grill.
In addition to these perks, you get a generous 10-year warranty on all parts, four different colors to choose from and Bluetooth connectivity to remotely monitor progress from your phone.
Construction
The body is porcelain-enameled with cast-iron cooking grates, stainless steel burners, and a heat deflector. It's corrosion-resistant and can handle the heat from hours of cooking exceptionally well.
Cooking Area and Space
The total cooking area is 529 square inches. There's also a warming rack and two folding side tables with integrated hooks to expand your working space when you're cooking in bulk.
How much food can you cook on it?
There's enough room to have about four to five steaks going. With Weber's grilling technology, cooking is incredibly efficient so it doesn't take long.
How much BTU does it produce?
The BTU-per-hour-input is 30,000 so it only takes a couple of minutes for the burners to reach 500 degrees Fahrenheit. Even when operating at high temperatures, you won't experience any flare-ups.
Cleaning System
The materials of this grill make it easy to keep clean. There's also an in-built grease-management feature that funnels grease and cooking debris into a removable tray to make tidying up convenient.
Portability
In terms of portability, this device is reasonably compact, lightweight, and easy to move around thanks to its wheels. It's 52 inches tall and 44.5 inches across if you open the folding drawers.

The Char-Broil Performance TRU-Infrared 3-Burner has a versatile design with smart features that make the device convenient to use. The TRU-infrared cooking technology dramatically reduces the chances of flare-ups and ensures streamlined cooking with an even distribution of heat to bring out the juiciness of food. As a bonus feature, it also has a burner that comes out of its side for cooking sauces or sides while grilling.
Related: 5 Best Gas Grills under $300
Construction
The body is made from rust-resistant, porcelain-coated stainless-steel grates that are durable, resistant to corrosion, and adds a touch of fancy to the overall aesthetic.
Cooking Area and Space
The primary cooking space measures 26.6 inches wide and 17.3 inches deep including the side burner. This model comes in two variants: one comes with carts that open at the sides to increase the workspace and the other includes cabinets for storing things.
How much food can you cook on it?
The cooking space is enough for about 24 patties. There's also a swing-away warming rack to keep recently cooked food warm for when you're making food for a lot of people.
How much BTU does it produce?
The primary burners produce 24,000 BTUs-per-hour while the side burner produces 10,000.
Cleaning System
Cleaning is a bit tricky since the Tru-Infrared element is attached to the grilling surface. It needs to be cleaned regularly otherwise the holes in the grates can get clogged. If you follow the instructions, however, Char-Broil offers a quick and easy method for cleaning their grill.
Portability
It weighs about 98 pounds which is a little bulky but is still relatively easy to move around thanks to its wheels.

Char-Broil's classic model combines regal with modern elegance despite the budget-friendly price tag. It boasts incredible power for a compact device and smart systems to maintain the temperature and evenly distribute heat.
Other features include a side burner for side dishes, storage compartments in the lid, and trays on the sides. The Piezo Ignition system allows you to fire up the burners with a push of a button. Char-Broil has been a well-known name in kitchen appliances since 1948 and is recognized for the quality and safety of its products.
Construction
The in-line burners are made from stainless steel while the body is made from porcelain-coated steel that is corrosion-resistant and excellent at retaining heat.
Cooking Area and Space
The primary grilling area measures 26 inches wide and 14 inches deep. The total cooking area with the side burner measures 360 square inches. There are two metal side shelves that fold open and provide a larger surface for seasoning or chopping meat.
How much food can you cook on it?
There's ample space to cook up to 15 burgers at a time.
How much BTU does it produce?
The primary grills deliver 30,000 BTUs of heat while the side burner delivers 8,000. The side burner's lower BTU capacity is acceptable since it isn't meant for grilling.
Cleaning System
This model's porcelain-coated grates prevent food from sticking to them and make the appliance easier to clean.
Portability
The device is 48.5 pounds and features two six-inch wheels that make it easy to move around.

Camp Chef's Big Gas Grill is the ideal grill for a party. It's got a massive primary grilling area with three high-powered cast aluminum burners. The design looks pretty basic but it's built for efficiency, not for showing-off. You have to purchase and connect your own propane cylinder.
What sets this model apart is it comes with a BBQ grill box that has a custom-designed heat diffusion system for the perfect sear. The griddle is incredibly convenient for cooking and provides efficient grease drainage.
Construction
The material of the burners and griddle is Camp Chef's seasoned cast iron, known for meeting the highest quality standards in the industry.
Cooking Area and Space
This grill provides you with 608 square inches of cooking space and a red tray that folds out from the side.
How much food can you cook on it?
You should be able to cook 30 burgers at a time if you're using the griddle.
How much BTU does it produce?
This gas grill powerhouse creates 30,000 BTUs an hour with its cast aluminum burners delivering a total of 90,000 BTUs per hour of heat to the entire cooking area.
Cleaning System
The space between the grills is wide enough to collect grease that trickles down. There's an added heat diffuser plate that evenly spreads the heat and reduces hot spots.
Portability
At 85 pounds, this grill is on the heavier side but it has portable legs that make it easier to carry around. If you're lugging this from the shed to the poolside by yourself, however, you'll likely need at least another set of hands.

Master Cook 3 is a budget-friendly barbecue grill that sports a compact design with a look-and-feel that compliments any outdoor space. The cooking area is conservative so it's better suited for small family gatherings.
With fold-out tables on either side, there's a lot of room to carry tools and equipment for cooking. You also have two color options: black with a matte finish and silver.
Construction
The propane gas grill is made from high-quality stainless steel with porcelain-enamel wire cooking grates. The stainless steel control panel is plated with chromium to slow the effects of rusting and give the device luster.
Cooking Area and Space
The cooking space of the propane gas grill measures 339 square inches and the heating tray above it is 132.8 square inches. There are also two foldable shelves on each side which extends to about half the length of the grill, providing the same amount of space to work on as grilling.
How much food can you cook on it?
It's a pretty compact device but you can still cook up to a dozen burgers at a time.
How much BTU does it produce?
This gas grill delivers 30,000 BTUs-per-hour which starts cooking the patty or steak within a few minutes of being switched on.
Cleaning System
Unfortunately, this Master Cook grill can be time-consuming to clean.
Portability
The device is about 48.9 pounds which is more lightweight than most of the gas grills on this list. It's easy to carry or push along with its two wheels.

This Megamaster grill is a sleek and compact powerhouse for outdoor cooking. It has a large cooking area that's designed to streamline cooking for a lot of people. The assembly and instructions are very easy to follow.
A stainless steel control panel at the foot of the grill helps you control the flame with precision. If you're looking for a budget gas grill that can handle cooking for small crowds, Megamaster is worth considering.
Construction
The main burners are made from durable stainless steel while the cooking grid is made from heavy-duty cast iron.
Cooking Area and Space
The total cooking area is 434 square inches with two foldable shelves to double up your workspace.
How much food can you cook on it?
The 434 square-inch cooking area can accommodate up to 20 burgers at a time.
How much BTU does it produce?
Megamaster's propane gas grill produces 30,000 BTUs-per-hour and the grill helps to evenly distribute the heat.
Cleaning System
The gas grill and the control panel are both made from stainless steel which prevents food from sticking to them while making them easy to clean with a towel and some detergent.
Portability
This Megamaster grill is medium-sized and weighs 60 pounds. Although there are two wheels to help you move the device, they're made from plastic so they may not be very durable.
Frequently Asked Questions
1. What is the Best 3 Burner Gas Grill?
After comparing the price, design quality, brand reputation, cooking area, and other relevant features, the Weber 45010001 Spirit II E-310 3-Burner Grill is hands-down the best three-burner grill in the market today.
2. How many people can a 3-burner grill cook for?
It depends on the size of the cooking area, but on average, a three-burner grill can cook for up to ten people.
3. How many BTUs should a Gas grill have?
Typically, a gas grill should offer at least 80 BTUs per square inch of cooking area.
4. At what temperature do you cook steaks on a Gas Grill?
The best temperature for cooking steaks on a gas grill is between 450 to 500 degrees Fahrenheit.
Takeaway
With a gas grill in the kitchen, you no longer have to wait for the weekend or a special occasion to enjoy barbecued and flame-grilled specialties. Gas grills are convenient enough to cook with and clean up during weekdays when you're more pressed for time.
After considering the grilling capacity, portability, construction, and heat capacity of these six grills, you're bound to find one that's perfect for you and your family.